Pistachio tiramisu
A recipe from
cooking-ez.com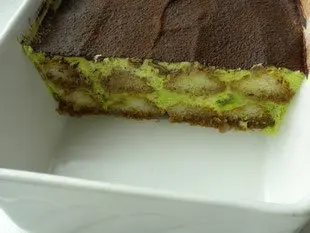 For 8 people, you will need:
Times:
Step by step recipe
1: Prepare the soaking syrup: mix 250 ml cold coffee, 100 ml Sugar syrup and 2 tablespoons whisky in a bowl.
2: Prepare the cream by beating 250 ml liquid cream, 250 g Mascarpone, 90 g caster sugar, 10 g Vanilla sugar, 1 egg and 3 tablespoons Amaretto together.
3: Take a little of this cream and mix it with 100 g Pistachio powder or paste (this is easier to mix in if it is already in almost liquid form).
4: Pour this mixture into the rest of the cream...
5: ...and fold in gently with a soft spatula to make the pistachio cream.
6: Use a gratin-type dish and arrange the first layer of biscuits in the bottom, after soaking them briefly in the coffee syrup.
7: Cover with a layer of pistachio cream.
8: Add a second layer of soaked biscuits.
9: Then another layer of pistachio cream.
10: Finish by dusting the top with cocoa powder.
Refrigerate for at least 2 hours.
Remarks
You will notice, I'm sure, how tiramisu always improves on being kept overight in the fridge.
---
June 26th 2019.