Plum tart "En passant par la Lorraine"
A recipe from
cooking-ez.com
27K
4.7
September 1
st
2019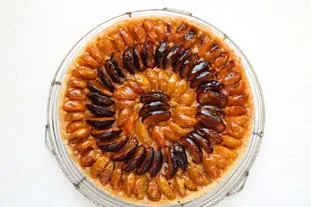 For 1 tart, you will need:
Times:
| Preparation | Resting | Start to finish |
| --- | --- | --- |
| 1 hour 6 min. | 50 min. | 1 hour 56 min. |
Step by step recipe
1: Line an 8-inch (20 cm) tart ring, following the guidance here.
2: Rinse, drain and dry 500 g mirabelle plums.
Cut in half, remove and discard the stones.
Drizzle the juice of ½ lemon over.
3: Rinse, drain and dry 350 g plums.
Cut in half and discard the stones.
4: Preheat the oven to 390°F (200°C).
Spread 200 g Rich hazelnut buttercream in a thin layer in the bottom of the pastry case.
5: Arrange the mirabelle halves in a circle around the edge, facing one way.
6: Arrange a second ring of plums inside, facing the other way.
7: Change direction again with another ring of mirabelles.
8: Finish with a few more plums in the centre.
9: Bake for 40 to 50 minutes. The fruit will give off quite a lot of juice. This is normal, but will make the tart quite fragile, so do be careful handling it while still hot.
Leave to cool before removing the tart ring.
10: If possible, glaze the top of the tart once it has cooled.
11: Eat cold on its own, or with a generous dollop of whipped cream.
Remarks
For a simpler version, you can use just one variety of plum, but it won't have the impact of combining the different sorts.
If you don't have hazelnut buttercream, opt for
almond cream (frangipane)
instead.
---
June 9th 2023.