Succès praliné (praline meringue)
A recipe from
cooking-ez.com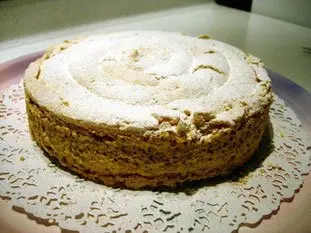 For 1 succès (meringue), you will need:
Times:
| Preparation | Resting | Cooking | Start to finish |
| --- | --- | --- | --- |
| 2 hours 16 min. | 1 hour 20 min. | 40 min. | 4 hours 16 min. |
Step by step recipe
1: Prepare an almond meringue by beating 3 egg whites to stiff peak stage, then add 150 g icing sugar at the end.
When the meringue is mixed, sprinkle 60 g ground almonds over and incorporate by tilting the bowl on its side and folding in gently with a maryse, so as not to lose the volume of the meringue.
Your almond meringue is ready.
2: Preheat the oven to 150°C (300°F).
Place a large sheet of cooking parchment on your worktop and draw a circle about 20 cm or 8" in diameter on the rougher side of the paper, the smooth side being for the meringue.
Use compasses or draw round an upturned plate or large metal ring.
3: Fix the sheet, smooth side uppermost on a baking sheet.
Prepare 2 baking sheets like this.
4: Take a forcing bag and a large nozzle (diameter 16), and fill with almond meringue.
Then pipe a spiral without going beyond the edge of the circle you have drawn, starting at the outside and working towards the centre.
It's important to keep the meringue light and not crush it, ideally the spiral should be at least as thick as the diameter of the nozzle.
Make two identical circles.
5: If you have some meringue left over, make shapes like finger biscuits, which are good for accompanying desserts like fresh mint ice cream or fruit salad for example.
6: Sprinkle the circles with a little a little icing sugar.
7: Put in the oven without delay, one above the other, for about 30-40 minutes. After 20 minutes swap the sheets over and turn them round to ensure even cooking.

8: Watch the cooking carefully, and remove the meringues from the oven as soon as they are nicely coloured.
It's quite possible that, depending on your oven, you'll need to take one meringue out 10 minutes before the other, which hasn't coloured as quickly.
Handle carefully: take off the paper sheets and put to cook on a rack. Your "succès" bases are ready.
9: Prepare 200 g Butter cream and fold in 50 g Praline.
Note: If you have prepared the butter cream in advance, remove from the fridge 1 hour before using, so that it has time to soften.
10: Place a meringue base on a chopping board, if you have a metal dessert ring, put this over the base and press down hard to even up the shape.
If you don't have a ring, just place a plate on top...
11: ... and cut round with a knife to trim off the excess...
12: ... until you have a perfect circle.
Do this for both bases.
Share the offcuts around any folks hovering in the kitchen - sure to bring you "succès"!
13: Assembling the cake:
Place the less good of the bases on the serving plate (if possible, put a paper doily on the plate first to make it prettier).
If you have a dessert ring it will be much easier.
14: Cover this base with an even layer of praline butter cream.
15: And place the second circle of meringue on top.
Refrigerate for at least 1 hour.
16: Shortly before serving, dust the top with a little iciing sugar and remove the ring.
Remarks
You can make this cake the day before and keep it in the fridge without it suffering.
The praline butter cream can be replaced by another filling, but the name "succès praliné" will no will no longer be appropriate.
---
October 27th 2020.