Courgettes (zuchinis)
A recipe from
cooking-ez.com
469K
1
2.0
October 13
th
2010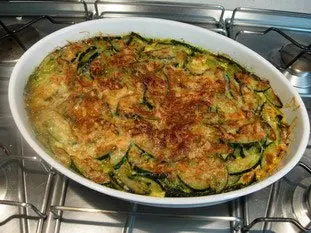 For 6 people, you will need:
Times:
| Preparation | Cooking | Start to finish |
| --- | --- | --- |
| 39 min. | 41 min. | 1 hour 20 min. |
Step by step recipe
1: Preheat your oven to 392°F or 200°C.
Wash and brush 3 courgettes, trim off ends.
2: Cut courgette into fairly thin slices (if possible using a mandoline).
3: Heat 4 tablespoons olive oil in a large pan over medium heat, then add 1 bayleaf, 1 sprig thyme and 1 sprig rosemary, 2 leaves sage and 2 cloves garlic en chemise.
Cook one minute.
4: Tip in courgette slices and stir well.
Do not salt, because this will draw out the courgette juices.
5: Cook for about 10 minutes, until slices are lightly browned.
salt and pepper, mix well, and cook another minute.
6: Remove and discard herbs and garlic, then pour courgettes into a strainer, and leave to drain.
7: Prepare gratin mixture by mixing 250 ml cream with 1100 g Comté cheese, salt and pepper.
8: Butter an oven-proof dish.
9: Put half the courgettes in the dish in an even layer.
Spread half the cheese-cream mixture over.
10: Add remaining courgettes in a second layer, and add the rest of the cheese-cream mixture.
11: Put in the oven for about 20 to 30 minutes...
12: ... until top is golden brown.
Remarks
If you don't have all the herbs specified for the recipe, it doesn't matter, just use what you have.
---
December 2nd 2021.