Fried bread with leek and poached egg
A recipe from
cooking-ez.com
30K
4.9
September 18
th
2016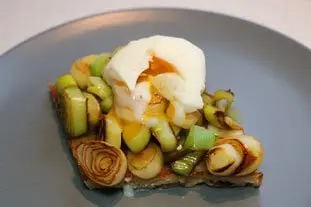 For 4 slices, you will need:
Times:
| Preparation | Cooking | Start to finish |
| --- | --- | --- |
| 22 min. | 9 min. | 31 min. |
Step by step recipe
1: Prepare 1 leek, but do not split lengthways. Slice into rounds.
Any leek trimmings can be used in another recipe, such as leek and potato soup.
2: Trim the crusts off 4 slices bread and cut into shapes, if you wish (I have chosen lozenges here).
3: Butter the bread on both sides.
Set aside.
4: Pour 3 tablespoons olive oil into a frying pan on medium heat.
When hot, add the sliced leek...
5: ...and fry until just lightly browned (not too much).
Salt and pepper after cooking.
Set aside to keep hot.
6: Using the same pan, fry the buttered bread on both sides.
Prepare 4 Poached eggs.
7: Heat the plates, then put a slice of fried bread on each one.
Add a layer of sliced leek.
8: Lay a poached egg on top and serve immediately.
9: For the best effect, split the egg open just before serving, so that some of the yolk runs down over the leek.
Serve with the split in the egg facing the diner.
Remarks
In this recipe, everything can be prepared in advanced , then reheated and assembled at the last minute. But the bread is best fried just beforehand.
---
August 15th 2022.