Gratin Parmentier
A recipe from
cooking-ez.com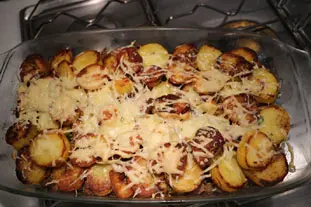 For 6 people, you will need:
Times:
| Preparation | Cooking | Start to finish |
| --- | --- | --- |
| 26 min. | 56 min. | 1 hour 22 min. |
Step by step recipe
1: Prepare and finely slice 1 onion and 2 spring onions (scallions).
You can also chop the larger onion.
2: Pour 4 tablespoons olive oil into a large pan on high heat. When really hot, add the onions.
Salt, pepper and cook for 1 minute without colouring, stirring frequently.
3: Add 500 g minced beef, mix well...
4: ... and cook the meat fully.
Check the seasoning then set aside.
5: Slice 500 g cooked potatoes.
6: Pour 4 tablespoons oil into a large pan on high heat. When really hot, brown the potato slices on both sides.
Do this in batches if necessary.
7: Preheat the oven to 360°F (180°C).
Butter a gratin dish and arrange half the potatoes in a layer in the bottom.
8: Add the meat.
9: Then add the remaining potatoes.
10: Top with 100 g grated cheese and bake...
11: ...for about 20 minutes, finishing under the grill, if necessary, to brown the top nicely.
Remarks
It is not essential to fry the potatoes if they are already cooked, but this does give a much better flavour.
You do not need to use beef, so use whatever meat you prefer or have to hand.
---
September 20th 2021.