Maroilles cheese quiche
A recipe from
cooking-ez.com
233K
3
4.3
April 17
th
2022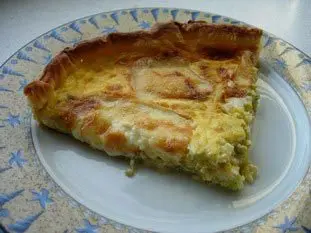 For 1 tart, you will need:
Times:
| Preparation | Cooking | Start to finish |
| --- | --- | --- |
| 1 hour 37 min. | 50 min. | 2 hours 27 min. |
Step by step recipe
1: Line the mould or tin with pastry, prick base all over, then keep in the fridge.
2: Peel 4 potatoes, wash and cook them in salted water, until they are just tender.
3: Allow to cool then cut into fairly thick slices.
5: Heat 3 tablespoons olive oil in a pan over medium heat, add sliced shallot, salt and pepper and cook for a minute or two.
Add leek, salt and pepper, and cook a few minutes without letting it colour.
Set aside.
6: If you wish to add 125 g small pieces of bacon, cook in a frying pan without fat and add, at the last minute, a tablespoon of vinegar.
Set aside.
7: Cut 250 g Maroilles cheese into thick slices, including crust.
8: Prepare 500 g Quiche filling mixture.
set aside.
9: Preheat your oven to 410°F (210°C).
Put a layer of leek into the pastry case.
10: A layer of bacon (optional).
11: Cover with a layer of potato slices.
12: Pour in the mixture.
13: Arrange cheese on top.
14: And put in bottom of oven for around 30-40 minutes.
15: The tart is ready when it is nice and golden brown.
Serve to your guests, warm if possible, with a green salad.
Remarks
If you don't have Maroilles cheese, you can use other ones instead. I advise you to go for a rather soft strong cheese like Reblochon, Munster, Morbier, etc.
You can also replace puff pastry by shortcrust.
---
June 9th 2023.