Mushrooms on toast, French style
A recipe from
cooking-ez.com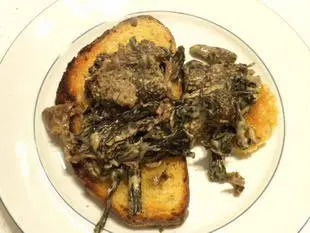 For 4 people, you will need:
Times:
| Preparation | Resting | Cooking | Start to finish |
| --- | --- | --- | --- |
| 8 min. | 1 hour | 57 min. | 2 hours 5 min. |
Step by step recipe
1: Rehydrate 100 g dried morels, and set aside the mushrooms "jus" (juice) you got.
2: Melt 1 onion and 30 g butter in a large pan over medium heat.
Chop 1 onion and cook in this oil-butter mix for 1 minute, then salt and pepper.
3: Add the drained mushrooms, 1 glass dry white wine and 2 or 3 ladles of mushroom water.
Cook the mushrooms in this mixture until all the liquid has evaporated.
4: Pour 400 ml liquid cream over the mushrooms, salt and pepper once more, then leave uncovered over low heat to thicken.
5: Cut the bread into thick slices and butter.
6: Fry the bread until golden over high heat, starting with the buttered side.
Heat the serving plates.
7: Place a slice of fried bread on each plate. Tip: cut a hole in the middle of each slice with a cutter. You can then fill it with mushrooms more easily.
8: Divide the mushrooms in their cream sauce between the plates and serve immediately.
Remarks
As you can see from the photos, I used a mixture of wild mushrooms here, but morels are by far the best for this.
---
June 9th 2023.