Potato gratin
A recipe from
cooking-ez.com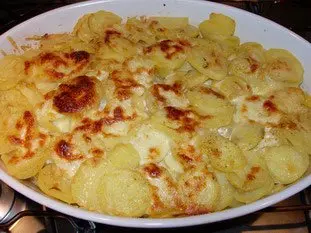 For 6 people, you will need:
Times:
| Preparation | Cooking | Start to finish |
| --- | --- | --- |
| 47 min. | 1 hour | 1 hour 47 min. |
Step by step recipe
1: Peel and wash 1 kg potatoes, cut into even slices.
Wash again, drain, and dry in a tea-towel.
2: Put the potato slices in a pan, cover with 1 litre milk, add salt, 2 pinches grated nutmeg and 1 Bouquet garni.
Cook until potatoes are just tender but not soft. Then drain potatoes, discard milk and bouquet garni. The milk is not used any more in this recipe.
3: Preheat oven to 200°C or 392°F.
Rub 1 garlic clove all around the inside of your dish.
4: Grease the dish with 1 knob butter.
5: Mix 100 g Comté cheese and 300 ml cream.
6: Put half the potato slices in the dish in an even layer.
7: Pour in half the cheese-cream mixture. Salt & pepper.
8: Add remaining potato slices in another layer.
9: Pour over the remaining cheese-cream mixture. Salt & pepper again.
10: Put in the oven for about 30 minutes...
11: ...until it's golden brown. It's ready!
Remarks
All the proportions (cream, cheese, potatoes) can be adapted to your taste. You should take care to cook the potatoes in the milk until only barely done, then drain them well.
---
June 18th 2021.