Potimarron and Parmesan tart
A recipe from
cooking-ez.com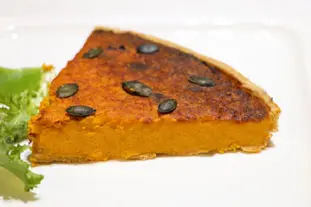 For 1 tart, you will need:
Times:
| Preparation | Cooking | Start to finish |
| --- | --- | --- |
| 39 min. | 1 hour 35 min. | 2 hours 14 min. |
Step by step recipe
1: Prepare 1 kg potimarron (Japanese chestnut pumpkin), chop into small chunks and put into a bowl.
Drizzle 3 tablespoons olive oil and scatter 1 tablespoon herbes de Provence over, salt and pepper, then mix well.
2: Spread the potimarron pieces out on a baking sheet and roast in the oven at 360°F (180°C) for about 30 to 40 minutes until quite soft.
3: Meanwhile, spread 50 g pumpkin seeds on a baking sheet.
4: Check that the potimarron pieces are soft when cooked by testing with a knife blade, which should pass through easily.
Set aside.
5: Turn the oven down to 300°F (150°C) and put in the baking sheet with the pumpkin seeds to toast for 15 minutes.
6: Put the potimarron pieces into a bowl and
blend thoroughly.
Add 50 g Parmigiano reggiano (Parmesan), 150 g egg, 150 g cream and the toasted seeds (but keep a few back for garnishing). Mix well and check the seasoning.
7: Roll out 300 g Shortcrust pastry (pâte brisée) and line a tart tin or ring of 10 inches (26 cm)
Prick all over the base.
8: Preheat the oven to 390°F (200°C).
Fill the tart with the potimarron mixture.
9: Scatter the remaining seeds over the top.
10: And bake for about 30 to 40 minutes.
Remarks
For a quicker version, you can use a
potimarron purée
made in advance.
---
May 27th 2020.