Rillettes stuffed mushrooms
A recipe from
cooking-ez.com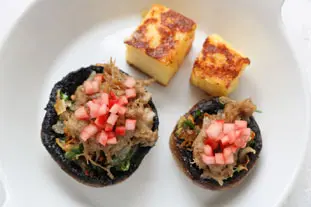 For 8 pieces, you will need:
Times:
| Preparation | Cooking | Start to finish |
| --- | --- | --- |
| 22 min. | 36 min. | 58 min. |
Step by step recipe
1:

Prepare the radish pickle

Rinse 3 radishes and dice very small (known as a brunoise).
2: Put the diced radishes in a ramekin, add 4 tablespoons vinegar, salt, pepper and the roughly chopped leaves of 1 sprig tarragon.
This condiment can easily be made the day before and left in the fridge until needed, covered with plastic film.
3:

Prepare the

mushroomsPrepare200 g mushrooms, choose large ones, and break off the stems (use them in another recipe).
Preheat your oven to 200°C (390°F).
4: Pour 3 tablespoons olive oil into a non-stick frying pan on high heat. When hot, add the mushroom caps.
Sauté until just browned on both sides, then salt lightly at the end of cooking.
5: Transfer the sautéed mushrooms to an ovenproof dish.
7: Salt and add the chopped parsley at the end of cooking.
8: Divide the fried onions between the mushroom caps.
9: Fill with a generous tablespoonful of rillettes.
10: Bake for about 20 minutes, until the rillettes start to brown.
11: Serve while still hot with a little of the radish pickle on each mushroom.
You can serve these on their own or, as shown here, with cubes of fried polenta.
Remarks
If you don't have the time or inclination to make your own radish pickle, you can use
pickled gherkins
diced small instead.
---
December 8th 2023.