Spinach on toast with bechamel
A recipe from
cooking-ez.com
52K
4.3
February 11
th
2015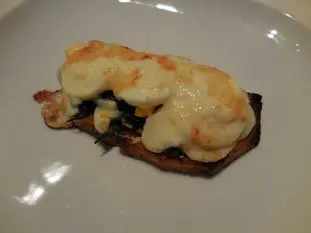 For 4 toasts, you will need:
Times:
| Preparation | Cooking | Start to finish |
| --- | --- | --- |
| 14 min. | 19 min. | 33 min. |
Step by step recipe
1: Start by preparing the bread: remove the crusts, if you prefer, from 4 slices bread, then butter lightly on both sides.
2: In a very hot frying pan, fry the bread on both sides...
3: ...then place on a baking sheet.
Preheat the oven to 390°F (200°C).
4: Pour 30 g butter into a frying pan on medium heat. When hot, add 1 shallot, finely chopped.
Salt and pepper, cook for one minute, then turn down the heat and add 350 g cooked spinach.
Heat through while stirring.
5: Divide the spinach between the toast slices.
6: Cover with slices of hard-boiled egg...
7: ...then top with bechamel sauce and, finally, the grated cheese.
8: Cook in the oven for 10 to 15 minutes until the top begins to brown.
Serve piping hot.
Remarks
For a sharper flavour, trickle a few drops of vinaigrette over the top after cooking.
---
March 23th 2023.