Italian hot chocolate
A recipe from
cooking-ez.com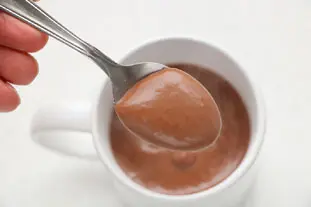 For 2 mugs, you will need:
Times:
Step by step recipe
2: Bring 500 ml whole milk to the boil.
3: Turn down the heat, add 10 g Vanilla sugar and 50 g dark chocolate, chopped into small pieces.
4: Turn off the heat, tip in the cornflour and water mixture all at once while whisking. The mixture will thicken almost immediately.
5: Pour into mugs or bowls. Serve hot or warm.
Remarks
If you prefer something a little sweeter, increase the amount of vanilla sugar or add a little caster sugar.
If your chocolate stash has run out, you can use cocoa powder instead, but you'll definitely need to add more sugar.
---
December 8th 2023.