Artichoke hearts forestier
A recipe from
cooking-ez.com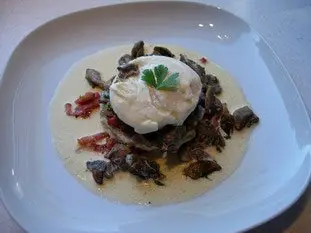 For 6 people, you will need:
Times:
| Preparation | Cooking | Start to finish |
| --- | --- | --- |
| 1 hour 2 min. | 1 hour 9 min. | 2 hours 11 min. |
Step by step recipe
2: Prepare 6 artichokes heart.
If you are using fresh artichokes, cook them and remove the leaves (eat these with a vinaigrette) and the choke (the fuzzy bits).
If tinned, drain them.
3: Peel 200 g button or field mushrooms and slice, then put in a bowl and sprinkle with lemon juice.
4: Finely chop 2 shallots.
5: Melt 25 g butter in a pan, add the chopped shallots, salt, pepper and cook for one or two minutes.
6: Add the mushrooms, salt and pepper, and bring to the boil covered.
Uncover and leave to cook over medium heat until all the liquid has evaporated (about 10 minutes).
7: Check seasoning, add the chopped parsley and set aside.
8: Put 125 g small pieces of bacon in a frying pan without fat and fry lightly.
At the last minute add the tablespoon of wine vinegar to the pan.
Set aside.
9: Roughly chop ½ onion.
Melt 25 g butter in a small pan, then add the onion, salt and pepper, and cook for 1 or 2 minutes, without allowing it to colour.
10: Add the 300 ml dry white wine, and reduce by 4/5 over a low heat.
11: Pour the contents of the pan through a fine strainer. Keep just the reduced liquid and return this to the pan.
12: Put the pan back on low heat and reduce until only 1 or 2 tablespoonsful of liquid remain.
Pour in 250 ml liquid cream, salt and pepper, then leave on low heat to thicken. When it reaches the required consistency, remove from the heat and check seasoning.
13: Warm the serving plates.
Reheat the eggs in a bain marie, or in the microwave in 2 tablespoons of salted water, on minimum power for 1 minute 30 seconds.
Reheat the duxelle of mushrooms, bacon, and artichoke hearts.
Place all the serving plates in front of you; from here on you must work as fast as possible.
In the centre of each plate, place an artichoke heart, and put a layer of bacon on it.
14: Add a layer of mushrooms, and place a poached egg on top.
Arrange any left over bacon and mushrooms around the artichoke hearts, then coat generously with sauce.
Finish with a parsley leaf on the top, and serve without delay.
Remarks
This is a good recipe for when you are entertaining, as everything up to and including step 11 (reducing the wine and onion) can be prepared in advance, even the day before, and put together at the last minute when your guests are around the table.
---
May 25th 2019.