Eggs Benedict
A recipe from
cooking-ez.com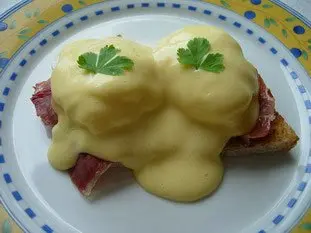 For 4 eggs, you will need:
Times:
| Preparation | Cooking | Start to finish |
| --- | --- | --- |
| 1 hour 1 min. | 3 min. | 1 hour 4 min. |
Step by step recipe
1: Prepare 200 g Hollandaise sauce.
Keep hot.
2: Prepare 4 Poached eggs.
Keep hot.
3: Remove crusts of 4 slices Sandwich bread.
4: Butter one side.
5: Cut 2 slices smoked ham in 2, to get slices about the same size as the toast.
Heat the plates.
6: Put ham slices in a hot frying pan, 30 seconds on each side (if you use regular ham instead of smoked, leave until ham is lightly fried).
Keep hot.
7: In the same pan, put the toast butter side down until well browned, then turn over and cook the other side for 1 minute.
If you are in a hurry, don't butter toast, just put in a toaster.
8: Put 1 slice of toast (or 2 if you are hungry) onto a hot plate, add a ham slice on top then a soft-boiled egg.
9: Cover with hollandaise sauce. If possible decorate with a parsley leaf, and serve immediately.
Remarks
Try to use not completely white bread, but whole-wheat instead, your toast and your eggs Benedict will be better. Even better is to make your own
sandwich bread
. Don't be afraid, it's quite easy.
---
September 24th 2021.