How long does it take?
Time required for this recipe:
| Preparation | Start to finish |
| --- | --- |
| 22 min. | 22 min. |
At what time:
When will I finish if I start the recipe at ... ?
When should I start for the recipe to be ready at ... ?
---
Remarks
For these kind of "emulsified warm sauces" (so called by chefs) one wrong move and your sauce collapses. In other words you are proud of the nice emulsion that is forming under your whisk, and then in a second you have an ugly curdled butter mixture in the bottom of your bowl...

What's happened? Probably your sauce needed more water, in other words the very small volume of water eventually evaporates due to the heat and beating, and without this water your sauce collapses (same as your morale - have you noticed?).

What can I do? You can try to recover the sauce by removing bowl from bain-marie, add 2 tablespoons of cold water, and start to beat again. This is not a totally sure method, but it usually works.

For adding butter, you will find many different recipes all claiming to be the only one that works: cold butter, very cold, in small pieces, clarified, etc. At my opinion there is no real difference between them. I found the way with melted butter easier and faster.
Keeping:
Once cooked, a few minutes.
Nutritional information
Whole recipe
Energetic value
Proteins
Carbohydrates
Fats
1,142 Kcal or 4,781 Kj
8 gr
4 gr
122 gr
57 %
3 %
<1 %
18 %
Per 100 g
Energetic value
Proteins
Carbohydrates
Fats
466 Kcal or 1,951 Kj
3 gr
1 gr
50 gr
23 %
1 %
<1 %
8 %
% are calculated relative to a Recommended Dietary Intake or RDI of 2000 k-calories or 8400 k-joules by day for a woman (change to a man).
Some recipes that use this recipe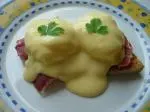 Soft-boiled eggs, served on toast with a slice of fried smoked ham, and the whole covered with Hollandaise sauce.
193,335
4/5 for 12 ratings 1 hour 4 min.

Small puff pastry cases filled with a layer of chopped leeks, fried langoustines (also known as scampi or Dublin Bay prawns), topped with hollandaise sauce.
85,403
4.2/5 for 11 ratings 1 hour 28 min.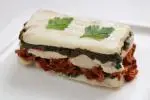 This terrine is made up of alternating layers of fish fillets with spinach and preserved tomatoes. It is cooked gently in the oven, then served in slices (yes, it really is a kind of terrine) with hollandaise sauce, for example.
7,200
5/5 for 1 ratings 1 hour 52 min.
See all recipes that use it
Source
Home made.
More recipes?
This recipe uses (among others)
| | |
| --- | --- |
| | Butter: You can get more informations, or check-out other recipes which use it, for example: Loaf for "les filles'", Flaky brownie brioche, Mushrooms on toast, French style, Langoustine gratin, Poppy seed and lemon cake, ... All |
| | Dry white wine: You can get more informations, or check-out other recipes which use it, for example: Artichoke hearts forestier , Seven-hour lamb, Rabbit with mustard, Filet mignon with mustard and tarragon sauce, Red mullet fillets with a reduced white-wine sauce, ... All |
| | Lemon juice: You can check-out other recipes which use it, like for example: Apple paste, Sautéed pears with custard and orange syrup , Salmon and leek fondue tart, Tarte Jurassienne, Chocolate mousse, ... All |
| | Egg yolk: You can get more informations, or check-out other recipes which use it, for example: Apple confectioner's custard, Pistachio ice cream, Scallops with crunchy vegetables and wine sabayon, Panettone, Pain perdu, ... All |
Other recipes you may also like
News list of cooking-ez.com
Sign up to receive the latest recipes (next batch due to be sent on 2021-06-20)
Note: We'll never share your email with anyone else.
Follow this recipe
If you are interested in this recipe, you can "follow" it, by entering your email address here. You will then receive a notification immediately each time the recipe is modified or a new comment is added. Please note that you will need to confirm this following.
Note: We'll never share your email with anyone else.