Four-tier glasses
A recipe from
cooking-ez.com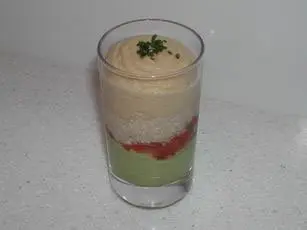 For 6 people, you will need:
Times:
Preparation
1 hour 36 min.
Step by step recipe
1: Peel 3 tomatoes, cut in strips then in dice.
Put in a strainer, salt and mix. Leave to stand about one hour, to draw out some of the juice.
2: Prepare the vinaigrette by mixing 4 tablespoons olive oil with 1 lime juice.
Salt and pepper, and add a little chives.
Add this vinaigrette to the drained diced tomatoes. Set aside.
3: Prepare 250 g Cauliflower tabouleh but without tomatoes.
4: Start asembling glasses: Put guacamole into each one up to ¼ of the height.
The best way is to use a forcing bag to put guacamole tidily right into the bottom of the glass.
5: Using a fork, add diced tomato to another ¼ of the height (to halfway).
Be careful to not put too much vinaigrette with the tomatoes.
You might need to push the tomatoes down to compact them a little.
6: Add another ¼ height of cauliflower tabbouleh ( push this down too if needed).
7: For the last ¼, add houmous. Again, using a forcing bag is easier.
8: Finally, add a pinch of chopped chives or a pinch of paprika or curry on top.
It's ready.
Remarks
You can prepare the four mixes the day before, even preparing the glasses, in which case seal the top of each glass with
plastic film
, and remove from the fridge at least one hour before serving.
---
December 8th 2023.