Green avocado salad
A recipe from
cooking-ez.com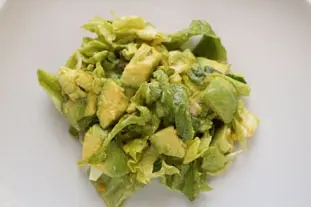 For 4 people, you will need:
Times:
Step by step recipe
1: Peel 2 avocados and cut the flesh into large dice.
3: Peel and finely chop 1 spring onion (scallion).
4: Roughly chop the parsley leaves.
5: Put into a salad bowl: avocado, lettuce, onion and parsley.
6: Add the 4 hard-boiled eggs cut into pieces.
7: Prepare the dressing by mixing the juice of 1 lime, 5 tablespoons olive oil, 1 teaspoon Tabasco, salt and pepper rapidly with a fork.
8: Pour the dressing over the salad, mix well and serve without delay.
Remarks
Do adapt the Tabasco to suit your taste and whether you prefer it hot or milder.
If you prepare this salad in advance, try to keep it covered, with the diced avocado sprinkled with lime juice to prevent it turning brown. Only add the dressing at the last minute.
---
January 29th 2022.