Late Winter Soup with Fresh Spinach
A recipe from
cooking-ez.com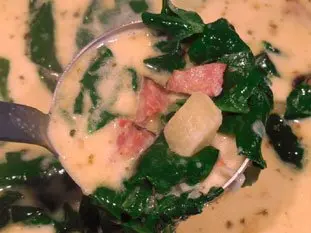 For 6 people, you will need:
Times:
| Preparation | Cooking | Start to finish |
| --- | --- | --- |
| 17 min. | 32 min. | 49 min. |
Step by step recipe
1: Cut 200 g Morteau sausage into small dice (if you do not have any, use another kind of sausage, but preferably smoked).
Chop 50 g onion.
Chop 2 cloves garlic finely.
2: Peel and rinse 350 g potatoes and chop into fairly large dice.
3: Prepare 100 g fresh spinach, but leave raw - there is no need to blanch.
4: Pour 2 tablespoons olive oil into a large saucepan on medium heat.
When hot, tip in the diced sausage and fry briefly.
5: Add the onion and garlic, salt and pepper, then stir to mix well. Cook without colouring for 1 or 2 minutes.
6: Add 1 litre 500 ml Vegetable stock. If you do not have any, add the same volume of water plus a stock cube, and potatoes.
Bring to the boil.
7: Turn the heat down and leave to simmer until the potatoes are cooked.
8: Add 250 ml liquid cream and bring back to the boil.
Check the seasoning.
9: Add the spinach and stir for 2 or 3 minutes.
10: Your soup is ready.
Remarks
This is a very flexible recipe, so do adapt the proportions to suit yourself (a bit more of this, a bit less of that...).
---
July 2nd 2022.