Pumpkin (or potimarron) soup
A recipe from
cooking-ez.com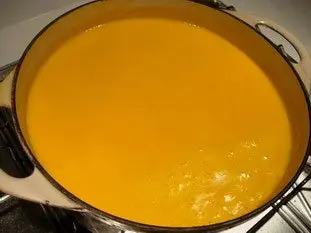 For 2 litres, you will need:
Times:
| Preparation | Cooking | Start to finish |
| --- | --- | --- |
| 50 min. | 20 min. | 1 hour 10 min. |
Step by step recipe
1: Prepare 1 kg potimarron (Japanese chestnut pumpkin) or pumpkin, as indicated here.
2: Cut it into small pieces and put in a big pan, cover with water, salt, add 1 chicken stock cube and bring to the boil.
3: Cook covered until pumpkin is soft (about 20 minutes).
4: Remove from heat, and blend, directly in the pan until smooth.
5: Blend in a bowl 2 tablespoons cornflour with 2 tablespoons of cold water.
6: Pour at one go into the pan while whisking non-stop. This operation will give a very smooth velouté.
7: Put the pan back on the heat and add 200 ml liquid cream while whisking all the time, and bring back to the boil. Check seasoning, it's ready.
Remarks
If you use potimarron, don't remove the skin, just scrub it with a brush, the flavour will be much better.
---
April 18th 2021.