Ramekins of duchess potatoes
A recipe from
cooking-ez.com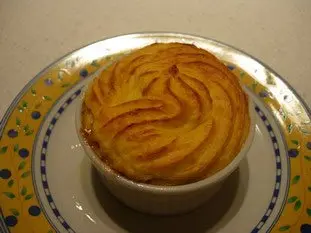 For 8 people, you will need:
Times:
| Preparation | Cooking | Start to finish |
| --- | --- | --- |
| 55 min. | 1 hour 10 min. | 2 hours 5 min. |
Step by step recipe
1: Peel and wash 1 kg potatoes.
2: Cook in salted boiling water until soft.
3: Put in a blender or a vegetable mill...
4: ...until you have a classic mashed potato.
5: Divide mashed potato in two, salt and pepper the first half, then over a low heat add 100 g butter and 125 g cream while stirring constantly.
Set aside.
6: Make the duchess potatoes: salt and pepper the other half of the mashed potato, add 3 egg yolks and 3 egg yolks.
7: Whip until nicely smooth and yellow.
8: Cook 125 g small pieces of bacon in a frying pan without fat, until they are cooked but not browned.
Set aside.
9: Preheat your oven to 180°C or 356°F.
Start assembling the ramekins: butter the bottom, and put in a layer of mashed potao about 1 cm or 0.5 inch deep.
10: Add a layer of cooked leek.
11: Add some bacon.
12: And finish with a layer of duchess potatoes, if possible by using a forcing bag (it's prettier).
13: Cook in the oven until duchess potatoes are golden brown (about 20 minutes).
14: Serve hot.
Remarks
If you don't have a forcing bag, spread the duchess potatoes on top of ramekin, and shape with a fork.
---
June 24th 2021.