Salmon and spinach quiche
A recipe from
cooking-ez.com
377K
1
4.1
February 21
th
2011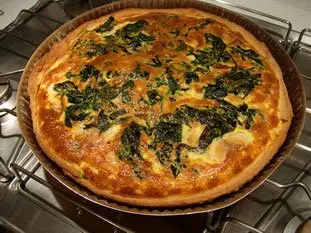 For 6 people, you will need:
Times:
| Preparation | Cooking | Start to finish |
| --- | --- | --- |
| 36 min. | 40 min. | 1 hour 16 min. |
Step by step recipe
1: Prepare the mixture for quiche: Beat together with a whisk 2 eggs and 2 egg yolks, 400 ml cream, salt and pepper until blended.
Prepare spinach (de-stalked - if tough, and blanched).
Preheat the oven to 180°C or 356°F.
2: Roll out dough, and line the tin.
3: Place half the smoked salmon slices in the bottom.
4: Snip basil roughly.
5: Distribute half the spinach and all ofthe basil over the salmon.
6: Pour over 1/3 of the quiche mixture.
7: Add rest of salmon slices...
8: ...the remaining spinach...
9: ...and finally pour over the remaining mixture...
10: .. to ½ centimetre from the top of the tin, then spread grated cheese over the surface.
11: Put in the oven, on a low shelf to cook the base of the quiche well, and bake for 30 to 40 minutes.
12: Serve warm or cold.
Remarks
You can add a little grated nutmeg to the mixture if you like, and replace the shortcrust dough by puff pastry for a more sophisticated dish.
---
September 24th 2021.