Vegetable tartare
A recipe from
cooking-ez.com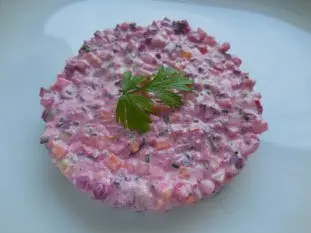 For 4 people, you will need:
Times:
Step by step recipe
1: You will need a lot of different vegetables, but only a small quantity of each (see the list of ingredients).
Peel the carrots, beetroot and celery, then rinse all the vegetables.
2: Cut the vegetables (apart from the shallot, garlic and cauliflower) into thin sticks...
3: ..then cut these across into tiny dice.
If you have a mandolin, this will make the job much easier.
The shallot and garlic should be chopped very finely.
4: Transfer the prepared vegetables to a bowl as you go.
5: The cauliflower (a purple one here) is better grated.
6: Once all the chopped vegetables are in the bowl, add some chives, cut very small...
7: ...then the mayonnaise and mix well.
8: To serve: place a dessert ring in the centre of a plate and fill with the mixture.
9: Gently remove the ring...
10: ...and garnish with a parsley leaf.
You could also pour a trickle of herb olive oil around the tartare.
Serve right away.
Remarks
In this recipe, do be careful with the beeroot, as it dyes everything purple. To show off all the different colours in the dish, you can simply leave out the beetroot or replace it with another vegetable, such as white cabbage.
---
July 6th 2020.