Aperitif rolls
A recipe from
cooking-ez.com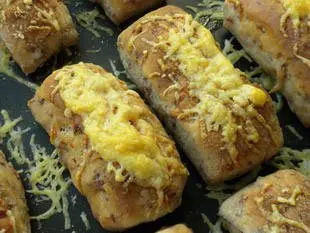 For 40 aperitifs rolls, you will need:
Times:
| Preparation | Resting | Cooking | Start to finish |
| --- | --- | --- | --- |
| 39 min. | 1 hour 15 min. | 37 min. | 2 hours 31 min. |
Step by step recipe
1: 1) Preparation of bacon filling.
Fry 250 g small pieces of bacon in a non-stick frying pan and discard the fat which runs out.
Set aside.
3: Reuse the bacon pan (without cleaning it) to melt 20 g butter. Add the chopped shallots, salt and pepper.
Cook without colouring.
4: Pour 15 ml red wine into the pan.
5: Mix and leave to cook until all the wine has evaporated, then add the bacon.
The filling is ready. Note that this can be prepared the day before and kept in the fridge in a sealed container.
6: In bread-making, the water temperature is always important. It's not a fixed value, but related to 3 other temperatures: 1) the temperature of your flour, 2) the room temperature in your kitchen, and 3) the basic temperature of this recipe, which is 52-56°C.
You can calculate the temperature of the water for this recipe in one click, using this small calculator.
7: 2) Preparation of dough.
Put into a food-processor bowl: 220 g flour, 30 g instant mashed-potato powder, 175 ml water at the right temperature, 5 g salt, 5 g yeast, 15 ml olive oil and possibly 25 g Soured dough.
Start on the slowest speed for 3 minutes, then a little faster for 6 minutes.
Note: For the best way to knead, see: A few tips for effective kneading at home.
8: Add the bacon filling to the dough and knead on the slowest speed just until it is well mixed in.
9: Roll the dough into a ball and put into a large clean bowl. Dust lightly with flour, cover with a sheet of plastic and leave in a warm place for 30 minutes.
10: After this time, roll out the dough into a rectangle 1cm (0.4 inch) thick.
11: Cut into strips 1cm wide (a dough cutter is very useful for this)...
12: ...then cut across into 2cm (0.8 inch) lengths to make the little rolls.
13: Arrange on a baking sheet, sprinkle with grated cheese. Cover with a sheet of plastic and leave to rest for about 45 minutes.
14: Preheat the oven to 240°C (460°F).
Bake the rolls for about 15 minutes.
Remarks
You can use Comté, gruyère or Emmenthal cheese, but
Comté
is by far the best.
If you serve these as aperitif snacks, don't be surprised if they all disappear - they are difficult to resist!
---
August 21th 2019.