Crispy prawn rolls
A recipe from
cooking-ez.com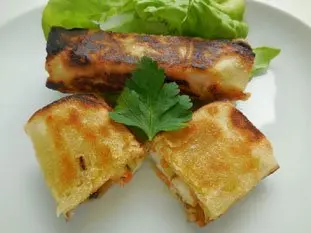 For 4 people, you will need:
Times:
| Preparation | Cooking | Start to finish |
| --- | --- | --- |
| 21 min. | 13 min. | 34 min. |
Step by step recipe
1: Prepare 150 g courgette and dice very small (to French chefs, this is a "Brunoise").
Prepare 150 g carrot and dice very small.
Prepare 50 g spring onion (scallion) and chop finely.
3: Using the same frying pan, pour in 2 tablespoons olive oil and when hot, add the carrots.
Cook for 2 or 3 minutes.
4: Add the courgettes and cook for a further 1 or 2 minutes.
Salt and pepper at the end.
Set aside.
5: Shell 300 g prawns and cut into chunks.
6: Fry the prawn chunks in 30 g butter until golden brown.
7: When nicely browned, add the carrots and courgettes and mix.
Check seasoning.
8: Lay a sheet of brik or filo on the work surface, put a small amount of filling towards the edge nearest you...
9: ...and roll up or fold into a neat little parcel.
10: Fry the rolls in a little oil until browned on each side.
11: Serve 2 rolls per person as a main course, or 1 as a starter.
Remarks
You can use other seafood instead of the prawns (scallops, scampi, etc.).
---
June 9th 2023.