Fish fillet in express cooking envelope
A recipe from
cooking-ez.com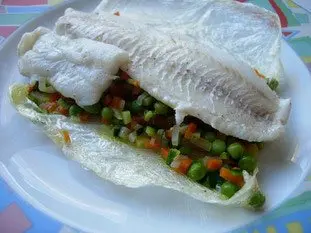 For 6 people, you will need:
Times:
| Preparation | Cooking | Start to finish |
| --- | --- | --- |
| 1 hour 12 min. | 7 min. | 1 hour 19 min. |
Step by step recipe
1: Wash and peel 2 carrots and 2 turnips, cut in small dice.
Prepare 1 courgette. Cut into small dice.
Shell 200 g peas if fresh.
Reserve.
3: In a pan, melt 30 g butter, add shallot and cook for one minute.
4: Add vegetables and mix well.
5: Cook with lid on for 3-4 minutes until the vegetables are just crunchy (not totally cooked). Salt and pepper.
6: Make the envelope:
Put in front of you a piece of cooking plastic film, place a fish fillet in the centre, salt and peeper each side.
7: Remove fillet, and in its place put 2 tablespoons of precooked vegetables.
8: Put fillet on top.
9: Add a dash of lemon juice.
10: And a dash of olive oil.
11: Fold plastic film.
Continue like this for all the fillets.
12: Cook in microwave oven for 2 minutes, at maximum power. Serve straight from oven.
Remarks
You can replace the cooking
plastic wrap
with some greaseproof paper, it is a little less practical (you need to make foldings), but prettier.
---
January 19th 2021.