Pollack fillet baked with rice and vegetables.
A recipe from
cooking-ez.com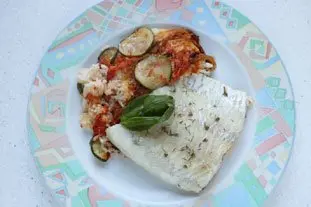 For 4 people, you will need:
Times:
| Preparation | Cooking | Start to finish |
| --- | --- | --- |
| 22 min. | 45 min. | 1 hour 7 min. |
Step by step recipe
1: Rinse 2 tomatoes, remove the hard part around the stalk and slice.
Rinse 2 courgettes and slice into rounds.
3: Pour 2 tablespoons olive oil into a large frying pan or skillet on high heat. When good and hot, add the sliced courgette and sauté for 5 minutes. Salt and pepper at the end of cooking.
Set aside.
4: Pour another 2 tablespoons olive oil into the same pan, then fry the sliced tomatoes (after salting) on both sides. When cooked, remove the tomato skin and discard.
Don't worry if the tomatoes disintegrate during cooking, as this is hard to avoid.
5: Pour another 2 tablespoons olive oil into the same pan, then fry the onion slices, which will fall into ribbons.
Salt and pepper, then set aside.
6: Mix together 500 g cooked rice and 5 tablespoons sesame oil (easier if the rice is still hot).
7: Butter a gratin dish and spread the rice as an even layer in the bottom.
8: Spread the fried onions over the top...
9: ...then the courgettes...
10: ...then the tomatoes.
11: Preheat the oven to 360°F (180°C.)
Prepare the fish fillets: remove the skin and any remaining bones. Rinse and dry the fish.
Coat the fish with olive oil using a brush. Salt and pepper, then scatter thyme leaves over.
12: Lay the fish fillets on top of the vegetables...
13: ...and bake for about 30 minutes (this will depend on the thickness of your fish, so do use an electronic thermometer, as explained in the method for cooking salmon.
14: Serve piping hot.
Remarks
I have used pollack fillets in this recipe, but you can use other fish - in season, of course.
---
July 11th 2020.