Rosemary steamed fish
A recipe from
cooking-ez.com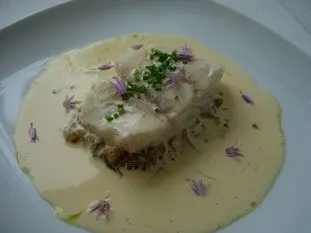 For 6 people, you will need:
Times:
| Preparation | Cooking | Start to finish |
| --- | --- | --- |
| 26 min. | 34 min. | 1 hour |
Step by step recipe
1: Take 6 fillets fish, fairly thick pieces of white fish, skinned and boned (hake, cod, ling, turbot, ...). Wash and dry them.
Check that there are no bones left by passing your finger down the centre of the fish while pressing gently. Salt and pepper on both sides.
2: Put 150 ml dry white wine in a small pan on medium heat, add 1 shallot minced, season with salt and pepper and reduce until only a tablespoonful of liquid is left.
3: Add 200 ml liquid cream, season again, and bring to the boil.
4: Pour the contents of the pan through a fine strainer...
5: ...and press the shallots well to extract all the flavour.
6: Pour the cream back into the pan, put on low heat and leave to thicken slowly.
At the last minute, incorporate 2 knobs butter while beating.
Keep hot.
7: Prepare the steamer: in a large pan put about 2 cm or 1 inch of water and add 6 sprigs rosemary.
Place something metal on the bottom, as if you were making a bain-marie.
8: Place the basket or a rack in the pan, cover and put on medium heat.
Heat serving plates.
9: When water is boiling (enjoy the smell of the rosemary), place the fish pieces in the basket in a single layer (no overlapping), and cover. If necessary, cook the fish in batches. It's important that the fish is not in direct contact with water, only with the steam.
Cook for 4 or 5 minutes maximum. The fish is cooked when it is completely opaque. You can also use an electronic thermometer, and stop cooking when the middle of the fish reaches 60°C (140°F).
10: If you cook the fish in more than one batch, leave the cooked pieces to wait in a hot dish, covered with a sheet of aluminium foil.
11: If necessary, reheat the fondue of onion, and spread about 2 tablespoonsful in the centre of each (hot) plate.
Lay a piece of fish on top, and pour about 2 tablespoonsful of sauce on and around it.
Chop 1 sprig chives and scatter over the top, maybe even use some chive flowers.
Serve without delay.
Remarks
Try this with other herbs, like thyme or lemon-thyme.
---
June 29th 2022.