How long does it take?
Time required for this recipe:
| Preparation | Cooking | Start to finish |
| --- | --- | --- |
| 31 min. | 1 hour 19 min. | 1 hour 50 min. |
Keeping:
Several days in the fridge, in a closed jar.
At what time?
When will I finish if I start the recipe at a certain time?
When should I start for the recipe to be ready at a certain time?
Work this out...
---
Step by step recipe
---
Stage 1 - 5 min.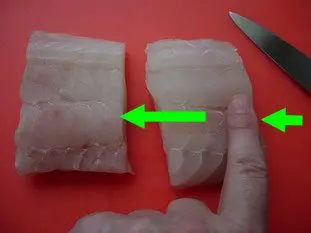 Take 6 fillets fish, fairly thick pieces of white fish, skinned and boned (hake, cod, ling, turbot, ...). Wash and dry them.

Check that there are no bones left by passing your finger down the centre of the fish while pressing gently. Salt and pepper on both sides.
---
Stage 2 - 5 min.
Peel 12
shallots
, slice thinly, and separate into rings.
---
Stage 3 - 35 min.
Pour 2 tablespoons
olive oil
into a pan on low heat, add 30 g
butter
cut in small pieces and allow to melt. Then add sliced shallots, keeping back a tablespoonful. Stir well, salt and pepper, then mix again.
Cover and leave to cook, stirring from time to time so that all the shallots brown evenly, not just those on the bottom of the pan, and to break up the rings into ribbons.
---
Stage 4 - 10 min.
When the shallots are thoroughly cooked and browned (about 35 minutes), uncover and pour 1 glass
dry white wine
over to add a hint of acidity, otherwise the shallots will be a bit too sweet.
Continue cooking uncovered until all the wine has evaporated, stirring and scarping the bottom of the pan well.
Check seasoning
.
Set aside
.
---
Stage 5 - 20 min.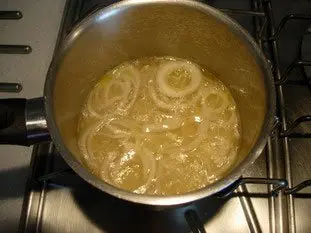 Put 150 ml
dry white wine
in a small pan on medium heat, add the remaining tablespoonful of shallots, season with salt and pepper and reduce until only a tablespoonful of liquid is left.
---
Stage 6 - 2 min.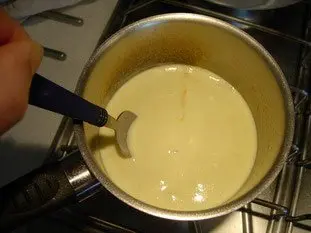 Add 200 ml
liquid cream
, season again, and bring to the boil.
---
Stage 7 - 5 min.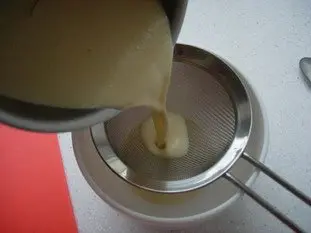 Pour the contents of the pan through a fine
strainer
...
---
Stage 8 - 2 min.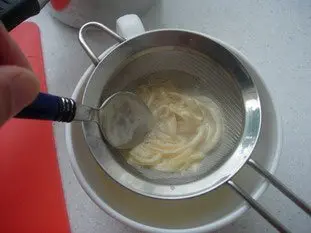 ...and press the shallots well to extract all the flavour.
---
Stage 9 - 10 min.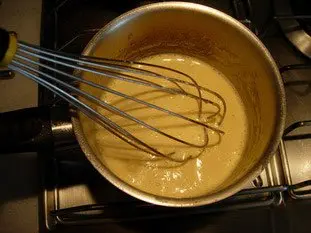 Pour the cream back into the pan, put on low heat and leave to thicken slowly.
At the last minute, incorporate 2 knobs
butter
while beating.
Keep hot.
---
Stage 10 - 5 min.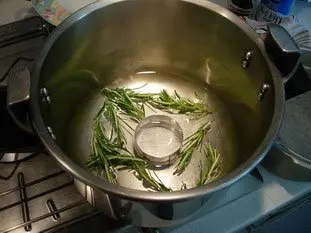 Prepare the steamer: in a large pan put about 2 cm or 1 inch of water and add 6 sprigs
rosemary
.
Place something metal on the bottom, as if you were making a
bain-marie
.
---
Stage 11 - 2 min.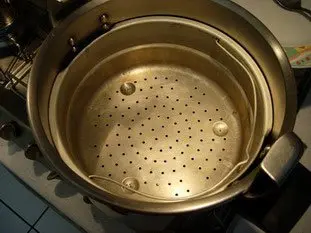 ---
Stage 12 - 4 min.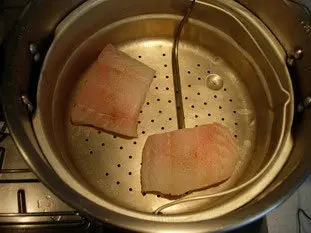 When water is boiling (enjoy the smell of the rosemary), place the fish pieces in the basket in a single layer (no overlapping), and cover. If necessary, cook the fish in batches. It's important that the fish is not in direct contact with water, only with the steam.
Cook for 4 or 5 minutes maximum. The fish is cooked when it is completely opaque. You can also use an
electronic thermometer
, and stop cooking when the middle of the fish reaches 60°C (140°F).
---
Stage 13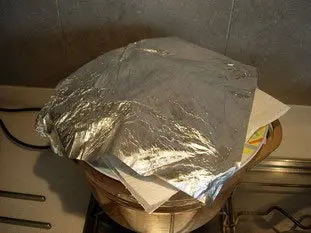 If you cook the fish in more than one batch, leave the cooked pieces to wait in a hot dish, covered with a sheet of
aluminium foil
.
---
Stage 14 - 5 min.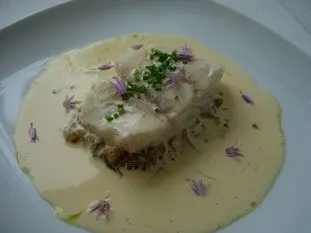 If necessary, reheat the fondue of shallots, and spread about 2 tablespoonsful in the centre of each (hot) plate.
Lay a piece of fish on top, and pour about 2 tablespoonsful of sauce on and around it.
Chop 1 sprig
chives
and scatter over the top, maybe even use some chive flowers.
Serve without delay.
Remarks
Try this with other herbs, like thyme or lemon-thyme.
Nutritional information
% are calculated relative to a Recommended Dietary Intake or RDI of 2000 k-calories or 8400 k-joules by day for a woman (change to a man).
How much will it cost?
For 6 people : 12.50 €
Per person : 2.08 €
Note : These prices are only approximate
And to drink?: A dry white wine, the same one that you used in the sauce, or else something fruity, like a Chardonnay such as Saint Véran.
Source
Adapted from a Bacchus meeting recipe.
More recipes?
This recipe uses (among others)
| | |
| --- | --- |
| | Liquid cream: You can get more informations, or check-out other recipes which use it, for example: Strawberry, kiwi and mascarpone verrines, Smoky potato and potimarron gratin, Cocotte eggs with Comté, Involtinis, Apple Batter Puddings, ... All |
| | Butter: You can get more informations, or check-out other recipes which use it, for example: Breton sablé biscuit dough, Smooth mixed vegetable soup, Flaky brownie brioche, Sorrel soup, Béarnaise sauce, ... All |
| | Shallot: You can get more informations, or check-out other recipes which use it, for example: Scallops au gratin, Beans with tomatoes, How to slow cook meat, Tahitian style fish, Valay salad, ... All |
| | Fish fillet: You can check-out other recipes which use it, like for example: Parcels of fish fillet in spinach, Red sea bream fillets in a soy-sauce marinade, Fisherman's Ragout, Curried tuna cubes, Pollack fillet baked with rice and vegetables., ... All |
News list of cooking-ez.com
Sign up to receive the latest recipes (next batch due to be sent on 2019-09-22)
Note: We'll never share your email with anyone else.
Follow this recipe
If you are interested in this recipe, you can "follow" it, by entering your email address here. You will then receive a notification immediately each time the recipe is modified or a new comment is added. Please note that you will need to confirm this following.
Note: We'll never share your email with anyone else.