Chard and potato gratin
A recipe from
cooking-ez.com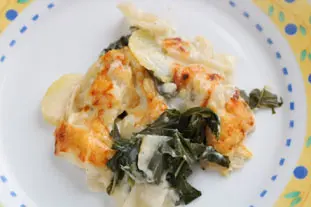 For 6 people, you will need:
Times:
| Preparation | Cooking | Start to finish |
| --- | --- | --- |
| 29 min. | 37 min. | 1 hour 6 min. |
Step by step recipe
1

Prepare the chard

Cut the green parts of 800 g Swiss chard off the central stalk and shred ("chiffonade").
2
Peel the stalks and cut into chunks.
3
Boil in a large pan of salted water until just tender.
4
Take out of the pan and drain, leaving the pan on the heat.
5
Put the greens into the same water and blanch for 2 or 3 minutes.

Drain thoroughly, pressing to squeeze out all the cooking water.
6

Assemble the gratin

Preheat the oven to 390°F (200°C).

Slice the potatoes.
7
Butter a gratin dish.
8
Put a layer of the chard greens in the bottom. Salt and pepper lightly.
9
Add a layer of potatoes.
10
Then the chard stalks.
11
Pour 200 g Bechamel sauce over and top with 50 g grated cheese.
12
Bake for about 30 minutes, watching for browning. If necessary, pop under the grill to finish browning before serving.
Remarks
For a quicker version, use thick cream or crème fraiche instead of the bechamel.
If the potatoes are not already cooked for
stage 6
, peel and slice them, then boil in the same water.
---
December 6th 2023.