Leek and tuna loaf
A recipe from
cooking-ez.com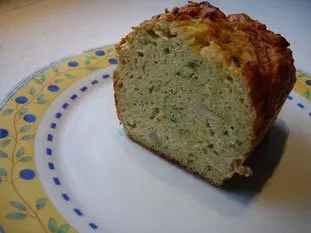 For 1 savoury cake, you will need:
Times:
| Preparation | Cooking | Start to finish |
| --- | --- | --- |
| 31 min. | 47 min. | 1 hour 18 min. |
Step by step recipe
1
Heat the oven to 210°C (420°F).

Prepare 1 leek and 1 shallot.

Then finely chop both of them.
2
Pour 2 tablespoons olive oil into a frying pan on medium heat.

When hot, add the chopped shallot, salt and pepper and cook for 1 or 2 minutes while stirring.
3
Add the chopped leek and leave to cook uncovered until the leek is just tender but still slightly crunchy.

Set aside.
4
In a food processor bowl, put: 250 g flour, 4 eggs, 100 ml olive oil, 10 g baking powder, 30 g butter, pepper and salt. Mix on slow speed until the mixture is smooth.
5
Add the leek and 200 g tuna in oil to the mixture and mix well.
6
Pour the mixture into a loaf tin or mould and bake.
7
Leave to cook for about 40 minutes; the top should be golden brown and the middle just cooked, because if it is overcooked, the cake tends to dry out.
Remarks
This loaf can be eaten cold or warm, and sliced then cut into cubes it is perfect to serve with aperitifs.
The varied possibilities of savoury cakes are limited only by your imagination. Use this basic recipe for the mixture, and add anything you like: ham, cheese, bacon, olives, etc.
---
October 22th 2021.