Almond cream or frangipane
A recipe from
cooking-ez.com
375K
2
4.4
October 29
th
2014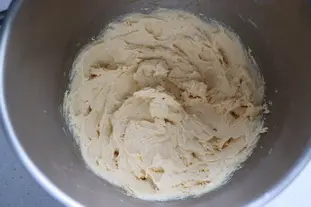 For 1 kg, you will need:
Times:
Step by step recipe
1
Put 250 g butter in the bowl of the mixer, and begin kneading on low speed to soften.

If you have a Kenwood, use the " K " beater.
2
Once butter is soft, stop the mixer and add 250 g ground almonds, 250 g icing sugar and 3 eggs.
3
Knead again on medium speed until obtaining a smooth light mixture (about 5 - 10 minutes).

Then add 25 g cornflour and 2 tablespoons rum while still kneading.

You have made almond cream that you can use as it, or improve in frangipane cream.
4
To make frangipane, add 350 g Confectioner's custard (Crème pâtissière, or French pastry cream) (cold) a tablespoonful at a time.

Continue kneading until mixture is light and fluffy (about 5 minutes).

It is ready.
Remarks
You can keep this cream in the refrigerator in a closed container for several days, but it can also be frozen easily.
---
October 22th 2021.