Seared tuna with lemon and lime
A recipe from
cooking-ez.com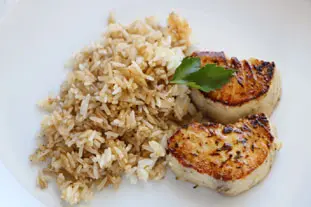 For 4 people, you will need:
Times:
| Preparation | Resting | Cooking | Start to finish |
| --- | --- | --- | --- |
| 7 min. | 2 hours | 11 min. | 2 hours 18 min. |
Step by step recipe
1
Trim 600 g fresh tuna and cut into medallions, if not already prepared.

Rinse and dry the fish.
2
Prepare the marinade by pouring 5 tablespoons olive oil into a dish with the juice of 1 lime and 1 lemon. Add the lemon and lime zest, then salt and pepper lightly.

Put the tuna medallions into the marinade and spoon some over them, then cover with plastic film and refrigerate for at least 2 hours or overnight.
3
Put a large non-stick frying pan on high heat. When really hot, add the tuna medallions, then salt and pepper.
4
Sear on both sides just until nicely browned. Don't overdo it, ot the tuna will start to dry out. It is fine for the flesh to stay slightly pink.
5
Transfer the cooked medallions onto a hot plate. Use a brush to coat them with a little of the marinade, then cover the plate with aluminium foil and keep hot.
6
Pour what is left of the marinade into the same pan, add 400 g cooked rice and reheat while stirring.
7
Serve immediately on hot plates.
Remarks
You can use this recipe for other types of fish, particularly those that tend to dry out during cooking, such as swordfish.
---
October 22th 2021.