Pollack Parmentier
A recipe from
cooking-ez.com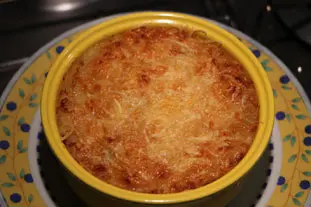 For 6 people, you will need:
Times:
| Preparation | Cooking | Start to finish |
| --- | --- | --- |
| 24 min. | 32 min. | 56 min. |
Step by step recipe
1
Poach 800 g fish in 1 litre fish fumet (or, at a push, just use salted water with 1 Bouquet garni) at a gentle simmer until just cooked.

To ensure the fish is perfectly cooked, stick an electronic thermometer into the fish and cook until the temperature reaches 140°F (60°C).
2
Take the fish out of the cooking liquid, remove the skin and any bones, then flake (break up) the flesh.

Set aside.
3
Prepare and slice 2 onions finely (a mandolin is the ideal tool for this).
4
Pour 3 tablespoons olive oil into a saucepan on medium heat. When hot, add the sliced onions.
5
Salt and pepper, then cook for about 5 minutes - the onions don't need to brown.

Set aside.

Preheat the oven to 360°F (180°C).
6
Peel 800 g cooked potatoes (I'm using rattes here).
7
Cut the potatoes into small pieces, then mash coarsly with a fork.
8
Add the fish, onions, thyme, salt and pepper, and mix well.
9
Fill individual ramekins or a large gratin dish.

Top with grated cheese.
10
Bake for 20 minutes, just until the cheese on the top has melted and is nicely browned. Finish browning under the grill if necessary.
Remarks
As mentioned above, you can use other kinds of fish, so this is a chance to choose something cheap and, above all, in season.
---
December 4th 2020.