Agen prune cake
A recipe from
cooking-ez.com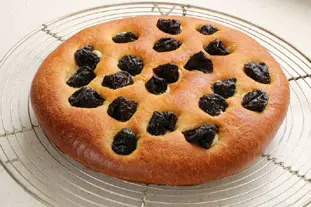 For 1 cake, you will need:
Times:
| Preparation | Resting | Cooking | Start to finish |
| --- | --- | --- | --- |
| 21 min. | 1 hour | 30 min. | 1 hour 51 min. |
Step by step recipe
1
Roll out 200 g Brioche dough into a flat round cake 8 inches (20 cm) diameter.

Lay the cake on a baking sheet, then glaze the top.

Leave in a warm place to rise for one hour.
2
Roll 100 g Marzipan (almond paste) into a long " sausage about half an inch (1 cm) thick.
3
Cut the marzipan into half-inch (1 cm) chunks.

Cut the prunes into quarters.
4
Preheat the oven to 360°F (180°C).

Push the marzipan pieces into the top of the well-risen cake.
5
Stick a piece of prune on top of each piece of marzipan.
6
Glaze the top of the cake again, then sprinkle with caster sugar.
7
Bake for about 30 minutes.
8
Leave to cool on a wire rack.
Remarks
If you would like a stronger Armagnac flavour, add 2 tablespoonsful at the end of mixing the brioche dough.
You can make this recipe using an enriched bread dough (pain brioché), rather than a classic brioche dough, but the cake will be plainer.
---
February 28th 2021.