Cockles and cabbage with smoky cream sauce
A recipe from
cooking-ez.com
5,551
4
December 15
th
2021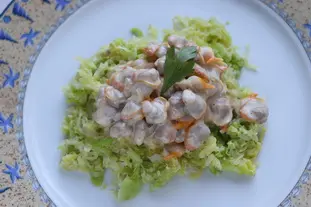 For 4 people, you will need:
Times:
| Preparation | Cooking | Start to finish |
| --- | --- | --- |
| 52 min. | 14 min. | 1 hour 6 min. |
Step by step recipe
1: Prepare and cook 400 g green cabbage.
Set aside.
4: Cut 200 g smoked cheese into small dice.
Set aside.
5: Melt 1 knob butter in a small pan on medium heat.
When good and hot, add half the sliced shallots, salt and pepper.
Cook for 1 minute without colouring.
6: Add 200 ml liquid cream and bring to the boil.
7: Add the smoked cheese.
8: Turn down the heat and let the cheese melt, stirring from time to time.
9: Add the cockles, mix well, cover and leave off the heat to wait.
10: Heat 2 tablespoons olive oil in a frying pan. When good and hot, add the remaining sliced shallots.
Salt, pepper and cook for 1 minute without colouring.
11: Add the cabbage, mix and leave just to heat through.
12: Serve dressed on hot plates, sitting the cockles on a bed of cabbage with a generous amount of the smoky sauce poured over.
Serve immediately.
Remarks
This recipe can be varied using other types of shellfish: mussels, scallops, clams, etc.
If the sauce is a bit too rich for your taste, try adding a drizzle of vinegar or lemon juice at the end; the hint of acidity will help to balance the velvety richness of the cream and cheese.
---
August 14th 2022.