Hearty leek and sprout soup
A recipe from
cooking-ez.com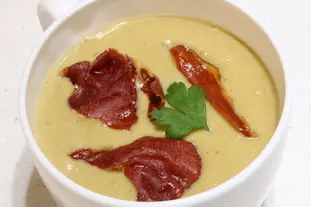 For 6 people, you will need:
Times:
| Preparation | Cooking | Start to finish |
| --- | --- | --- |
| 35 min. | 54 min. | 1 hour 29 min. |
Step by step recipe
1: Preheat the oven to 390°F (200°C).
Arrange 4 slices smoked ham on a sheet of cooking parchment laid on a baking sheet.
2: Cook for 5 to 10 minutes until the slices are well browned and crisp when cooled.
Set aside, leaving the oven on.
3: Peel 800 g Brussels sprouts and cut in half lengthways (tip: start this while the ham is cooking).
4: Put in a bowl with salt and pepper, then pour 5 tablespoons olive oil over.
Mix well.
5: Take the ham off the baking sheet and spread out the sprouts on it (let's reuse as much as we can).
6: Roast for 20-30 minutes until nicely browned.
Set aside.
8: Melt 50 g butter in a large pan. When good and hot, add the chopped onion.
Salt, pepper, mix and cook for 1 or 2 minutes.
9: Add the leeks and cook for 2 or 3 minutes, stirring frequently.
10: Add the sprouts, mix again and add 1 litre chicken stock.
11: Bring to the boil, then turn down the heat and leave to simmer for 10 minutes.
12: Take off the heat, add 2 tablespoons cream and blend thoroughly.
13: Serve piping hot in bowls, garnished with morsels of crispy ham.
Remarks
The sprouts can be cooked in advance, even the day before.
The quantities of vegetables are for guidance, so do adapt these to suit your own taste.
---
August 8th 2022.