White bean gratin "à l'italienne"
A recipe from
cooking-ez.com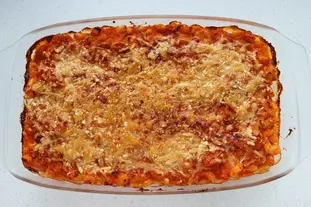 you will need:
Times:
| Preparation | Resting | Cooking | Start to finish |
| --- | --- | --- | --- |
| 8 min. | 12 hours | 54 min. | 13 hours 2 min. |
Step by step recipe
1: The day before cooking, put 700 g white haricot beans to soak in a bowl of water.
2: Next day, boil in salted water until soft (it is normal for froth to form on the top to begin with; just skim it off).
3: Drain the beans.
Preheat the oven to 390°F (200°C).
4: In a large pan (this could be the same as used to cook the beans), heat 4 tablespoons olive oil over medium heat. When good and hot, add 1 red onion chopped, 1 sprig rosemary, 1 bayleaf and 1 garlic clove.
Salt, pepper and mix well.
Cook while stirring for 1 or 2 minutes.
5: Add 300 g peeled and chopped tomatoes, mix and turn down the heat, Leave to thicken for 5 minutes.
6: Add the beans and mix in.
7: Transfer the mixture to a buttered gratin dish.
8: Scatter 50 g grated cheese over.
9: Bake for about 20 minutes.
Remarks
You can use a
bouquet garni
instead of the rosemary and bayleaf.
For a heartier version, add an extra 50 g of grated cheese to the beans with the tomatoes.
---
June 9th 2023.