Chicken breasts in a potato crust
A recipe from
cooking-ez.com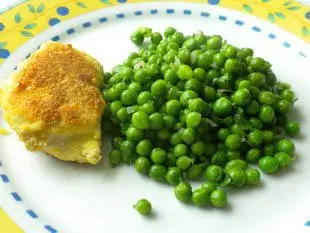 For 4 people, you will need:
Times:
| Preparation | Cooking | Start to finish |
| --- | --- | --- |
| 23 min. | 40 min. | 1 hour 3 min. |
Step by step recipe
1: Cut 300 g chicken breast into individual portions (one per person).
2: Put some water in a saucepan on low heat and add 1 chicken stock cube.
When the stock cube has dissolved, add the chicken breasts and simmer until they are just cooked (about 10 minutes).
It is important to cook the chicken gently to avoid it drying out. Use a thermometer, if you can, and stop cooking when the centre of the chicken reaches 65°C (149°F).
3: Drain the chicken breasts and set aside.
4: Bring a pan of salted water to the boil and add the shelled peas.
Cook until just tender (about 5 mintues).
5: Drain and cool quickly under cold, running water.
7: Melt 30 g butter in a pan, then add the onion, salt and pepper. Cook for 1 or 2 minutes.
8: Add the peas and chopped parsley. Mix well and leave on low heat to reheat.
9: Meanwhile, brush the chicken breasts all over with beaten egg yolk, then salt and pepper them.
10: Roll the chicken breasts in a plate containing 30 g instant mashed-potato powder to coat them well.
11: Pour 4 tablespoons oil into a frying pan on high heat. When hot, fry the chicken breasts until golden brown on all sides.
12: Serve the chicken and peas without delay.
Remarks
If you would like a thicker crust, you can coat the chicken with beaten egg a second time, then roll it in the plate of potato powder again.
---
September 21th 2021.