Cured Pork Belly With Lentils
A recipe from
cooking-ez.com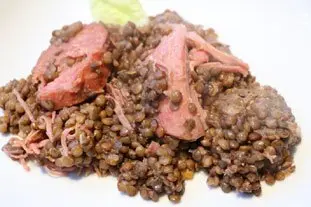 For 10 people, you will need:
Times:
| Preparation | Cooking | Start to finish |
| --- | --- | --- |
| 19 min. | 3 hours | 3 hours 19 min. |
Step by step recipe
1: Prepare the flavourings for the stock:
chop 1 onion, peel 2 carrots and slice into rounds, lightly crush 1 garlic clove.
2: For the meat, choose fully cured or lightly salted cuts of pork. The ones you see here are: 500 g belly (streaky) bacon, 1 kg 500 g pork shoulder, 1 Morteau sausage, 1 kg 500 g knuckle of pork.
Lightly salted meat only needs to be rinsed. More heavily salted meat should be soaked for 2 hours in cold water, with the water changed twice during that time.
The sausage can be used as it is.
3: Put into a large cooking pot: all the meat, onion, carrots, garlic, bouquet garni and a little salt and pepper. Cover with cold water.
4: Bring to the boil on high heat, skim off the froth that forms, then leave to cook gently for 2 to 3 hours.
5: After this, when you take the meat out, you will see that it has become a melt-in-the-mouth "confit".
6: Trim the meat, removing and discarding any bones, skin and rind.
Cut the sausage into thick slices.
7: Rinse 500 g green lentils under cold running water in a strainer.
8: Take out a good mugful of the meat stock and save for later. Discard the bouquet garni and the garlic, rescue the carrots and set them to one side, then bring the stock back to the boil.
9: Tip in the lentils and leave to cook until they are just tender, but still fairly firm (they will finish cooking later with the meat).
Drain the lentils, but save the stock they were cooked in.
10: In the big cooking pot, melt 3 tablespoons lard on high heat.
Fry the meat for 2 or 3 minutes until browned all over.
Pour in 2 glasses dry white wine and deglaze the bottom of the pan.
11: Add the lentils, the mugful of stock you saved earlier, and the carrots, then mix.
Cover and leave to simmer gently for about 30 minutes (or longer), but take care not to let the pork belly dry out or stick. If necessary, moisten with a ladleful or more of stock.
12: Serve piping hot.
Remarks
If you don't have any
Morteau sausage
, use any other sausage you like.
There are some, me among them, who like to serve pork belly with a trickle of vinegar.
As I say above, the pork is is even better when reheated but, unfortunately, the lentils turn mushy when overcooked and become less and less presentable.
Keep the remaining stock, with it you can make a tasty
'day after pork belly' soup
.
---
May 26th 2020.