Baked Alaska
A recipe from
cooking-ez.com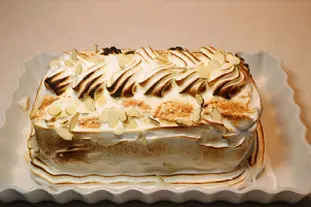 For 1 dessert, you will need:
Times:
| Preparation | Resting | Cooking | Start to finish |
| --- | --- | --- | --- |
| 1 hour 42 min. | 5 hours | 5 min. | 6 hours 47 min. |
Step by step recipe
1:

The rum-soaked sponge

Make 500 g Génoise (Genoa sponge) in a 8 x 8 inch (20 x 20 cm) tin or mould.
2: Cut the cake in half lengthways.
If necessary, trim off any crusty edges to neaten the sides. Sit the pieces on a baking sheet.
Note: when cutting cake like this, a serrated knife makes the job easier.
3: Prepare the soaking syrup by mixing 150 g Sugar syrup and 30 g rum in a bowl.
4: Use a brush to soak both pieces of cake generously with the syrup.
Put in the freezer for at least 2 hours.
5:

The ice creams

Once the soaked cake is fully frozen, cover one with a layer of 400 ml Vanilla ice cream.
Spread quickly, the flatten the top with a palette-knife.
Put back in the freezer for an hour.
6: After this, add 400 ml blackcurrant sorbet as a second layer and flatten the top as before.
7: Place the second piece of soaked cake on top, then neaten the sides, adding a little more ice cream to fill any gaps.
The "sandwich" should be a tidy rectangular block in 4 layers: soaked cake base, vanilla ice cream, blackcurrant sorbet and soaked cake lid.
8: Sit this ice-cream sandwich in an oven-proof dish, cover with plastic film and return to the freezer one last time for at least 2 hours.
The assembled block can be made in advance and kept like this for several days.
9:

Finish the dessert

About 15 minutes before you intend serving, preheat the oven to 460°F (240°C). Take the ice-cream sandwich in its dish out of the freezer.
10: Prepare a French-style meringue by beating 3 egg whites to stiff peak stage and folding in 150 g caster sugar at the end.
11: Cover the ice-cream sandwich completely with an even layer of meringue, using a palette-knife once more, if possible, to smooth the surface.
12: Put any leftover meringue into a forcing bag with a fluted nozzle and pipe decorations on the top and around the base.
Finish by scattering a few flaked almonds over.
13: Bake in the very hot oven for about 5 minutes, just enough to lightly brown the meringue and give it a thin crust.
You can also finish the dessert under the grill or with a torch, like for a crème brulée.
14: Serve a slice to each guest, either on its own or with a little real custard (crème anglaise).
Remarks
Baked Alaska* can be varied with different types of cake and ice cream. Instead of genoa sponge, you could use
provençal colombier for pentecost
or
almond macaroon cake
, for example. The ice cream can be just one flavour or a combination, and you can replace the rum with a different liquor, such as Calvados (this would be a "Norman" version).
Though it is not essential, you can flambé the dessert (using rum) at the table just before serving - guaranteed to impress your guests!
*Translator's note: the French name is even more bizarre: "omelette norvégienne" or Norwegian omelette!
---
June 18th 2021.