Chaud-froid of grapefruit, pineapple and lime custard
A recipe from
cooking-ez.com
243K
4.7
December 20
th
2010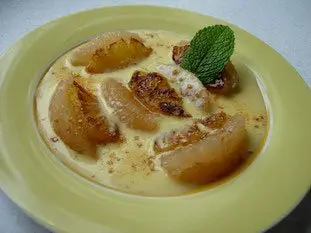 For 4 people, you will need:
Times:
| Preparation | Resting | Start to finish |
| --- | --- | --- |
| 1 hour 45 min. | 20 min. | 2 hours 5 min. |
Step by step recipe
1: Prepare the lime custard (crème anglaise): proceed as for the usual recipe, but with these proportions: 3 egg yolks, 250 ml milk, and 35 g caster sugar, don't forget to add zest of 1 lime to milk before boiling.
2: Once the custard is made, cover and leave to cool.
3: Peel 3 grapefruits, you need about 6 segments per guest.
Place the segments on a rack over a plate, sprinkle with sugar, and leave at room temperature. This is so that the grapefruit does not produce too much juice when the dessert is finally assembled.
4: Peel 1 pineapple, cut into quarters lengthways, then into slices approximately 1/2 cm (1/4 inch) thick. You should obtain 6 pieces by guest.
5: Just before serving, divide grapefruit segments between serving plates.
6: Melt 30 g butter in a frying pan, clarified if possible.
Add the pineapple and brown while stirring frequently.
When the pieces are golden, add 2 tablespoons brown sugar, and allow to melt and caramelize, stirring occasionally.
7: Put a piece of pineapple beside each grapefruit segment.
8: Pour the lime custard (crème anglaise) all round, scatter some citrus crunch over, and decorate with a little fresh mint leaves.
Serve immediately.
Remarks
For complete success in this recipe there should be a contrast between the cold grapefruit and custard, and hot pineapple.
If you don't have citrus crunch, you could add a pinch of cococa powder instead, and/or flaked almonds.
---
June 9th 2023.