Hazelnut and orange cake
A recipe from
cooking-ez.com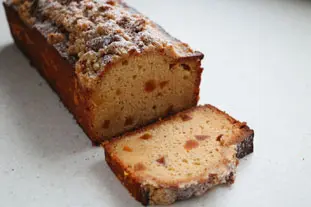 For 1 cake, you will need:
Times:
| Preparation | Cooking | Start to finish |
| --- | --- | --- |
| 1 hour 18 min. | 57 min. | 2 hours 15 min. |
Step by step recipe
1:

Hazelnut crumble topping

Put into a food mixer bowl: 20 g butter, 20 g ground hazelnuts, 20 g brown sugar and 20 g flour.
2: Beat until the dough is evenly mixed.
3: Break up the dough into small pieces and spread out over a sheet of cooking parchment laid on a baking sheet.
Put in the freezer.
4:

Orange syrup

Put into a saucepan: the juice of 2 oranges (you will need 50g from each orange), 50 g water, 50 g caster sugar and the zest of one of the oranges.
5: Bring the syrup to the boil, then take off the heat and cover.
Set aside.
6:

Beaten egg whites


Beat 130 g egg white to stiff peak stage and add 40 g caster sugar at the end.
Put to wait in the fridge.
7: Cut 160 g candied fruit (orange) into small dice.
8: Put into a bowl and add 20 g flour.
9: Mix together thoroughly with a fork.
This is to stop the candied fruit sinking to the bottom of the cake during cooking, so it should stay evenly spread through the cake.
10:

Cake batter

Put into a mixer bowl: 150 g butter, 80 g caster sugar and 20 g honey.
11: Beat until evenly mixed.
12: Add 60 g egg yolk and beat again.
13: Sieve 180 g flour and 6 g baking powder into the bowl with the excess flour off the candied fruit.
14: Beat once again until evely mixed.
15: With the mixer on slow speed, add the beaten egg whites a little at a time.
16: Finish by adding the candied fruit.
17: Preheat the oven to 390°F (200°C).
Put the cake batter into a buttered loaf tin or mould.
18: Scatter the frozen hazelnut crumble topping over.
19: Bake for 40-50 minutes.
20: Turn out while still hot onto a wire rack and use a brush to soak the cake with the orange syrup.
21: Decorate with a dusting of icing sugar.
Remarks
For the fruit, try using
candied grapefruit peel
, which works very well.
This cake lends itself easily to different versions, such as almond and lemon.
---
December 5th 2021.