Viennese Shortbread
A recipe from
cooking-ez.com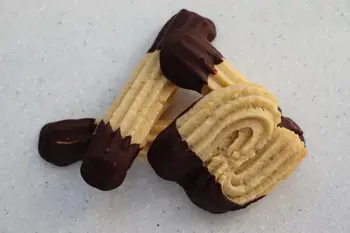 For 15 pieces, you will need:
Times:
| Preparation | Resting | Cooking | Start to finish |
| --- | --- | --- | --- |
| 35 min. | 2 hours | 30 min. | 3 hours 5 min. |
Step by step recipe
1:

Preparation of the dough

In a small bowl, pour 160 g butter cut into small pieces.
If the butter is cold (it comes out of the fridge), let it soften at room temperature for at least 1 hour.
2: Sift 50 g icing sugar over butter, then add 10 g Vanilla sugar.
3: Mix with a wooden spatula until smooth.
4: Add 220 g flour, 2 pinches fine (or table) salt and 30 g egg white.
5: Mix until you have a smooth dough.
You can do this with a spatula again, or simply by hand, which is very quick.
Preheat your oven to 180°C (360°F).
6: Put the dough in a pastry bag lined with a fluted tip.
7:

Piping and baking

Pipe the dough onto a sheet of baking paper on a baking sheet in any shape or size you like.
If you have trouble because the dough is too hard, pop the piping bag into the microwave for a few seconds, or hold it between your hands, to soften it.

8: Bake for about 30 minutes, be careful not to overcook them, the shortbread should remain soft.
9: Let cool on a wire rack.
Set aside the baking sheet and the paper.
10:

Chocolate topping

Melt in a bain-marie or microwave oven 100 g dark chocolate.
I recommend using a small container with high sides, in this case a simple jam jar, it will be much easier to dip the cookies.
11: Dip the end, or ends, of each cookie into the melted chocolate.
12: Place them on the baking sheet, do this for all the shortbread and then put in the fridge for at least 30 minutes.
13: Your Viennese shortbread is ready.
Remarks
If your shortbread flattens out after baking, as in this photo, it's probably because you used a little too much butter.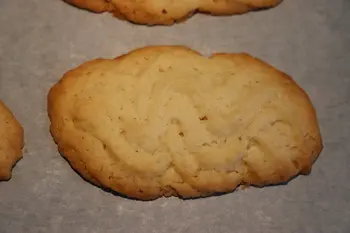 ---
December 8th 2023.