Breton Pie
A recipe from
cooking-ez.com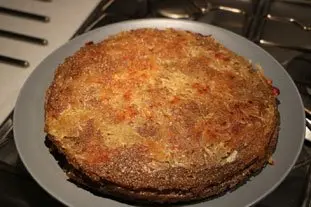 For 6 people, you will need:
Times:
| Preparation | Cooking | Start to finish |
| --- | --- | --- |
| 24 min. | 45 min. | 1 hour 9 min. |
Step by step recipe
2: Slice thinly.
3: Melt 50 g butter in a frying pan on medium heat, then add the sliced onions, salt and pepper.
4: Fry until just starting to brown.
Set aside.
5: Using the same pan, pour in 1 tablespoon olive oil.
When very hot, add 200 g small pieces of bacon and fry as you like it.
6: When the bacon is cooked, add the onions and mix well.
7: Add 2 tablespoons cream, mix well, leave for a few minutes to thicken, then check the seasoning.
8: Preheat the oven to 390°F (200°C).
Use a round tin, preferably spring-form or loose bottomed. Scatter a little grated cheese in the bottom.
9: Lay a pancake in the tin, trimming the edges if it doesn't fit.
10: Spread a little of the onion-bacon-cream filling on top.
11: Add another pancake and repeat the operation until you have used up all the pancakes and filling.
12: Finish with a little grated cheese.
13: Bake for about 20 to 30 minutes...
14: ...until the top pancake is nicely browned.
15: Turn out upside down and serve hot, cut into portions like a pie.
Remarks
You can make the pie deeper by using more than 6 pancakes. If you do this, remember to make more of the onion-bacon-cream filling.
---
March 23th 2023.