Crispy rolls with chicken and leek
A recipe from
cooking-ez.com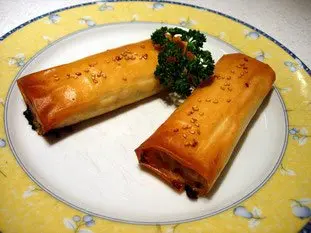 For 10 pieces, you will need:
Times:
| Preparation | Cooking | Start to finish |
| --- | --- | --- |
| 28 min. | 21 min. | 49 min. |
Step by step recipe
2: Pour 4 tablespoons olive oil into a pan on medium heat, add shallot, salt, pepper, and cook for one minute.
3: Add leeks, mix well and cover. Cook for about 5 minutes, until leeks are just cooked, checking that leeks don't catch on bottom of pan.
Meanwhile, cut chicken (use leftovers) into very small pieces.
4: As soon as leeks are cooked, add chicken pieces, 100 ml cream and grated a little Parmigiano reggiano (Parmesan) (to taste), mix well and leave to thicken a few minutes, uncovered.
5: Remove from heat, allow to cool, and add chopped parsley.
6: Spread out in front of you two sheets of filo, one on top of the other...
Note: you can apply some melted butter with a brush between the two sheets to make them stick, it'll be easier to roll up.
7: ...put about a tablespoon of chicken-leeks mixture in the middle of one edge of filo sheets...
8: ... roll filo around the mix over about ¼ length to start a roll...
9: ...fold sides over centre...
10: ...and finish rolling up.
Continue like this with all the mix, or all the sheets.
11: Preheat your oven to 392°F (200°C).
Put rolls on a baking sheet, apply melted butter with a brush. Make sure that end of the filo sheet makes a good joint to get a neat and pretty roll.
12: You can sprinkle some sesame (or other) seeds on rolls.
13: Put in the oven for 5 to 10 minutes...
14: ...until rolls are nicely browned.
Serve with a green salad if possible.
Remarks
The rolls are unsuitable for freezing because filo pastry breaks into fragments when frozen. You would do better to freeze chicken-leek mixture, then thaw it and make rolls just before cooking.
---
September 27th 2020.