Eggs meurette
A recipe from
cooking-ez.com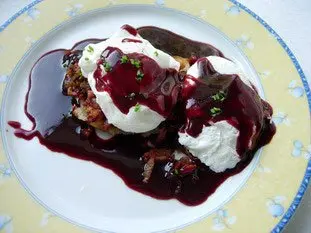 For 4 people, you will need:
Times:
| Preparation | Cooking | Start to finish |
| --- | --- | --- |
| 33 min. | 56 min. | 1 hour 29 min. |
Step by step recipe
1: Pour 750 ml red wine into a pan on medium heat. Salt and add 1 teaspoon caster sugar (to reduce the bitterness after cooking).
The ideal wine for this is a red Burgundy made from Pinot Noir grapes, but do experiment with other red wines rich in tannin, Syrah/Shiraz for example.
Bring to the boil and leave to reduce gently.
2: Prepare 8 Poached eggs.
3: Prepare 6 onions and slice into thin rounds (use a mandolin, it's quicker).
Pour 4 tablespoons olive oil into a non-stick frying pan and when nice and hot, add the onions.
Salt and pepper, then leave to cook uncovered on low heat stirring regularly...
4: ...until the onions are well fried and browned.
Check seasoning, then tip onto a plate on absorbant paper.
5: Reuse the same pan without washing it to lightly fry the 200 g small pieces of smoked bacon.
Then transfer them onto the plate with the onions, leaving the fat in the pan.
6: Remove the crust from 4 slices bread. reheat the frying pan and fry the bread in the bacon fat until they are golden brown.
8: Then pour this mixture into the reduced wine and beat vigourously while still heating to thicken the sauce.
Check seasoning.
9: Arrange on the plates: put a slice of fried bread on each one and spread with a layer of onions and bacon. Place two poached eggs on top and cover with wine sauce.
Garnish with a few chives and serve immediately.
Remarks
As is usual with these emblematic recipes, I keep my distance; this is not "the" recipe for eggs meurette, just one among many, my own version. What's more, I reckon there must be as many versions as cooks in Burgundy...
In this recipe, everything can be prepared in advance, even the day before. But it's wiser to fry the bread and thicken the wine sauce at the last minute.
The great chef Bernard Loiseau used a carrot purée rather than cornflour to thicken the sauce.
In a restaurant near Meursault I tasted a version with chopped mushrooms added to the onions, which was an excellent idea.
You can also enhance the flavour of the sauce by adding a
bouquet garni
to the pan as it comes to the boil, or 1 or 2 cloves of garlic.
---
August 21th 2019.