Filo leeks and cheese tart
A recipe from
cooking-ez.com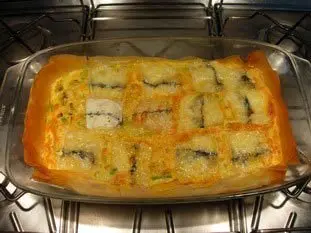 For 1 tart, you will need:
Times:
| Preparation | Cooking | Start to finish |
| --- | --- | --- |
| 36 min. | 41 min. | 1 hour 17 min. |
Step by step recipe
1: Wash and slice 2 leeks thinly.
Peel and chop 1 shallot.
Pour 4 tablespoons olive oil into a pan on medium heat. When it's hot, add the chopped shallot, salt and pepper, and cook for one or two minutes.
2: Add the sliced leeks, mix well, cover and cook for about 10 minutes...
3: ...until leeks are soft, but keep a pretty green colour.
Salt and pepper only now.
4: Melt 30 g butter.
5: Place a sheet of filo pastry in front of you.
6: Coat the whole surface with butter, using a brush.
7: Put the sheet into your mould or dish, buttered side down.
Trim off the surplus, and use the trimmings to completely cover the inside of the mould.
8: Do this with 2 or 3 layers of filo pastry, each time buttered side dowm.
Finally butter the upper surface of the last sheet (which will be buttered both sides).
9: Preheat oven to 200°C or 392°F.
Prepare the cream: in a bowl put 2 eggs, 150 ml liquid cream, salt and pepper.
10: Beat well.
11: Put the leeks into the pastry case in an even layer.
12: Pour in the mixture.
13: Put slices of cheese on top.
14: Put in the oven for about 30 minutes.
15: Remove when golden brown. It's ready.
Remarks
You can use any cheese you like, but I advise you to use a soft strong-flavoured cheese: Morbier, Maroilles or Munster (for French examples), or any good goat's cheese, etc.
If you love plenty of crust, add one or two more layers of filo pastry.
---
April 6th 2020.