Ham "friand" pie
A recipe from
cooking-ez.com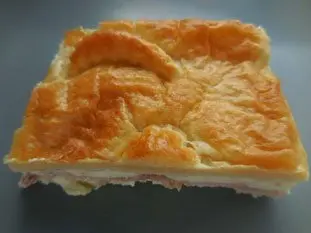 For 4 people, you will need:
Times:
| Preparation | Cooking | Start to finish |
| --- | --- | --- |
| 25 min. | 40 min. | 1 hour 5 min. |
Step by step recipe
1: Heat 1 tablespoon olive oil in a non-stick frying pan on medium heat, then fry a slice of ham for a few seconds to brown it on one side only.
2: Do this for the 4 slices ham.
3: Preheat the oven to 430°F (220°C).
Butter a metal oven tray or roasting tin.
4: Line the bottom with a layer of puff pastry.
5: Cover with bechamel sauce.
6: Then a layer of grated cheese.
7: Arrange the slices of ham on top.
8: Add another layer of bechamel sauce, then more grated cheese.
9: Finish with a second layer of puff pastry and glaze.
10: You can decorate the pie by sticking on cut-out shapes of left-over pastry.
11: Bake on a low shelf in the oven for about 35 minutes.
You can eat this pie hot from the oven, or leave to cool and cut into 4 portions (with a serrated knife) and refrigerate or freeze it for later.
Remarks
One difficulty of this recipe is to prevent the bechamel sauce soaking into the pastry and leaving it heavy and dense. To avoid this, get the pie into a hot oven as soon as it is assembled in the tin.
You can also begin by precooking the underneath layer of puff pastry in the dish, after pricking it all over with a fork just beforehand to stop it puffing up.
---
May 27th 2020.