Potimarron (chestnut pumpkin) "au gratin"
A recipe from
cooking-ez.com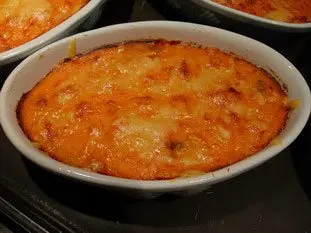 For 4 people, you will need:
Times:
| Preparation | Cooking | Start to finish |
| --- | --- | --- |
| 54 min. | 41 min. | 1 hour 35 min. |
Step by step recipe
1: Prepare 300 g Potimarron (Japanese chestnut pumpkin) purée (this can be done several days beforehand, in which case reheat it before adding what follows). Add 100 ml cream, 1 knob butter and 100 g grated cheese, pepper, and mix well.
Check seasoning.
2: Peel and chop 1 shallot.
Pour 3 tablespoons olive oil into a pan on medium heat.
When hot, add shallot, and cook for one minute.
3: Add 300 g cooked chicken, turn heat down to low, cover and allow to cook gently, stirring occasionally.
After 10 or 20 minutes, you will notice that chicken will completely shred (see picture on right).
Remove from heat as soon as this happens, and set aside covered.
4: Preheat oven to 392°F (200°C).
Mix the chicken with freshly chopped parsley and spread in a large dish (or individual ones like in the photo).
5: Cover this chicken layer with a layer of pumpkin purée.
6: Finish with some grated cheese.
7: Put in the oven for about 20 minutes.
8: Remove as soon as top is nicely browned.
Remarks
You can replace left over chicken with any other meat you have: pork, beef or whatever.
---
April 5th 2020.